COVID19 UPDATE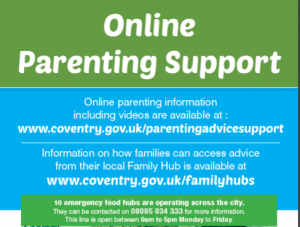 FOR COMMUNITY SUPPORT FROM COVENTRY CITY COUNCIL SERVICES PLEASE CLICK HERE
The Foleshill Family Hub is now open, please click here for more information about the services provided.
SCHOOL NURSING SERVICE AVAILABLE DURING COVID19 OUT BREAK
Parents can ask questions relating to their child's health via parent line, please TEXT the service on 07507 329 114. A school nurse will call you back.
Foleshill Family hub runs sessions about:
Play and Learn
Health and well being
Benefits and advice
Employment and training
For further details including times and locations please click here
Further help and support during COVID-19 Outbreak
LAW CENTRE HELP
If you are concerned about accessing services The Law Centre has produced a leaflet with lots of information to help families.
Please Click here